Turkish : Passport by Investment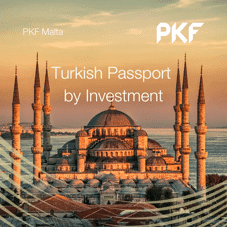 Turkish Citizenship by Investment program offers an attractive package to those looking to acquire a second passport. Turkey is centrally positioned between Eastern Europe and Western Asia, making it a convenient location for many.

The Eurasian country is well-known for its hospitable and welcoming manner to foreigners. Offering spectacular landscapes, sandy beaches, ancient ruins, and abundantly rich culture, Turkey offers a wealth of attractions and opportunities for whatever your personal preference may be.

Seeking assistance? Please complete this brief survey to expedite our support: Take Survey
Benefits of the Turkish Passport include:
E2 Treaty Country; Easy to obtain US Residency after getting Turkish Citizenship
short waiting time
You can both have a solid investment with regular income and at the same time, you can obtain one of the most sought citizenships in the World.
Visa Free Travel for 148 countries
Turkish Citizens can easily relocate inside the UK and EU with respect to the Ankara Agreement between the EU and Turkey
No Minimum Residency in Turkey Required
Turkish passport has 10-year validity and is renewable for life
Turkey Identity Card Included
Full free Medical assistance for life for all family members
Turkey allows Dual and multiple Citizenships
No Military Service is required for TCBI Applicants
Pension Programs Included
Free Education and University Reimbursement Plans are provided
Eurasian country with a hospitable and welcoming manner to foreigners
The fantastic natural environment, wonderful beaches, green forests, and lakes
Excellent food and rich cuisine
Superb Health Facilities
Superb Educational Facilities
Timeline
Duration: 3-6 months
Investment requirement
Obtaining a second passport has never been easier. Working with PKF Malta you will not be required to travel to Turkey at any stage. From start to finish, everything can be done remotely at your convenience and in full compliance with the applicable regulations.
Investment options to choose from: 
$250,000 real estate investment OR
found/buy a company with 500,000 $ capital OR
deposit 500,000 $ in Governmental investment instruments or any banks operating in Turkey OR
employing 50 personnel which is also determined as criteria for applying for Turkish citizenship under the new regulations.
The most popular route to obtaining the Turkish Passport  remains: Real Estate
Natural persons of foreign origin are granted the right to acquire Turkish citizenship by means of exceptional procedures upon purchase of real estate worth USD 250,000 and more.
 For this purpose, foreigners:
Shall purchase real estate worth at least USD 250,000
Shall state, in the application for the acquisition, that they purchased the real estate for this purpose, the title deed should state this purpose, and the foreigner shall declare that they shall not sell the real estate for three years in the section of the form where declarations are made.
Once the land registry procedures are complete, the foreign national may apply to the relevant administrations to claim the right of residence or citizenship by submitting the certificate of eligibility to be issued for the owner.
With a short waiting time, various cost-effective options available, and without the need to leave home, you can be sure to have both a solid investment with regular income, and at the same time, obtain one of the most sought after citizenships in the World.
How PKF Malta can help:        
PKF Malta is vested together with its partners to make this process for you and your family, as simple as possible. PKF Malta will accompany you throughout the entire process and make sure that your citizenship by investment program is an enjoyable, successful and smooth route.
Seeking assistance? Please complete this brief survey to expedite our support: Take Survey