Granting of Citizenship for Exceptional Services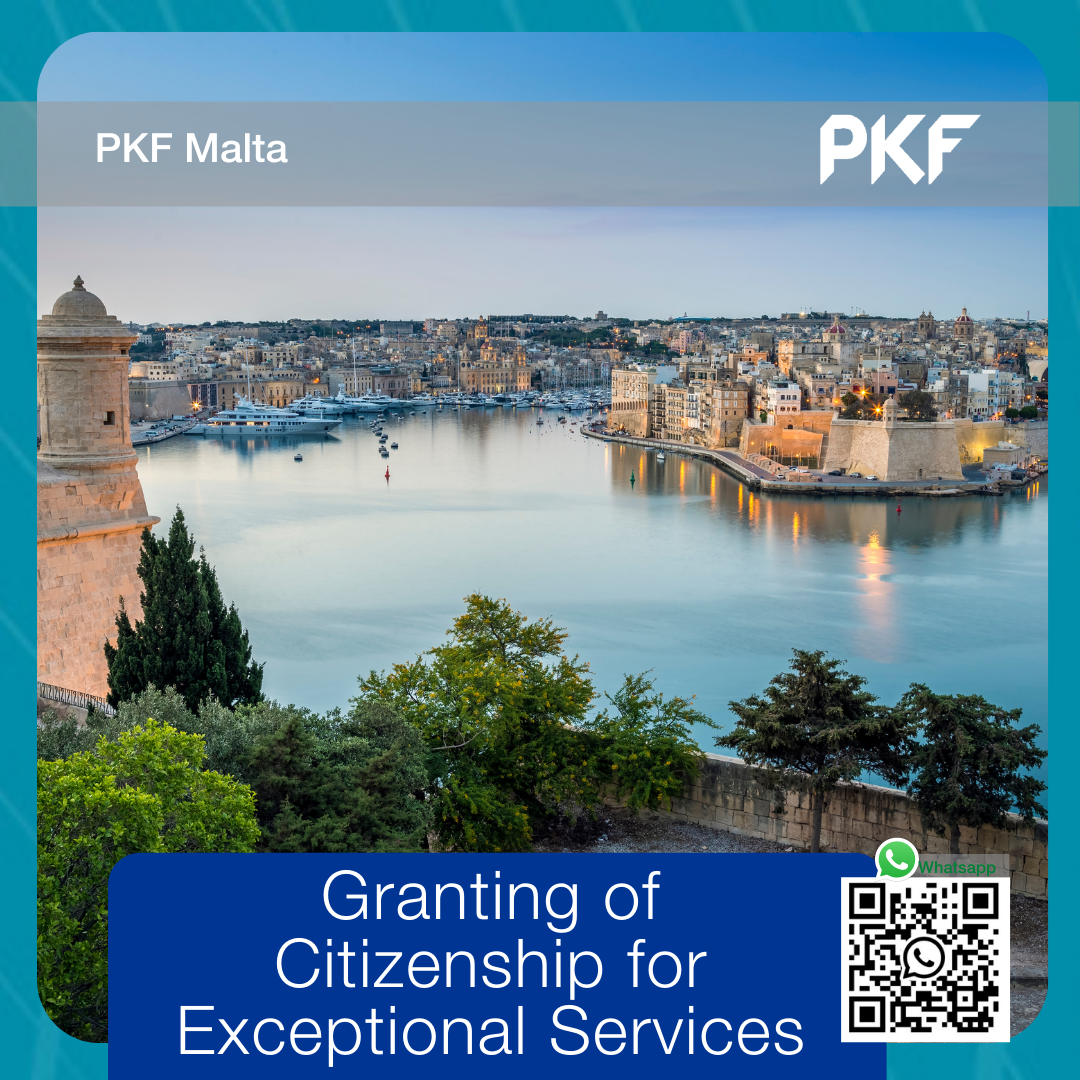 By virtue of Legal Notice 437 of 2020 which was issued on Friday 20th November 2020, the Granting of Citizenship for Exceptional Services Regulations has been launched.
Successful applicants under this programme have bestowed the privilege of Maltese citizenship by naturalization under the discretionary grant of the Maltese government.
Upon receiving approval in principle, the successful applicant must satisfy various investment conditions, chief amongst which is a monetary contribution to the Maltese Government, payable into the newly set up Community Malta Agency.
This programme targets high to ultra-high net worth individuals and their families seeking to obtain EU citizenship by means of investment. PKF Malta is an accredited agent to Europe's only officially approved Citizenship by Investment Programme. 
---
Benefits of Malta Citizenship
Schengen Immediate Visa-Free travel within Schengen Area, with a right to stay in one place for up to 90 days in any 6 months period Visa-Free Travel 168 Countries including the US & Canada
EU Approved CESDI approved by the EU Commission
Gives you the right to live, study, work in any 27 countries & Norway, Iceland, Lichtenstein & Switzerland
Education: Access to top-tier British Education & English Language School Hub
Peace of mind, Safe and stable country
High-level Health care: Access to the highly reputed health care ranked 5th globally
---
Investment Requirements:
Main applicant: 18+ of age and of good repute.
Property: Buy property worth a minimum of €700,000 or rent at €16,000 per year for a minimum of 5 years.
Direct investment*1:
€600,000 with 36 months residency OR €750,000 with less than 12 months residency
*1: €10,000 of direct investment regards as part payment of a non-refundable deposit at the residency stage and ONLY required by the main applicant.
*2: Each dependant required direct investment of €50,000.
NGO donation: €10,000 Donation to a registered philanthropic, culture, sport, scientific, animal welfare or artistic non-governmental organization or satiety, or as otherwise approved by the agency.
Process & Timeline:
Sign the Power of Attorney
Residency application and agent performs Tier 1 due diligence
Submission of the eligibility application
Receipt and processing of the eligibility pack
Letter of Approval for eligibility
Submission of application for citizenship after 12 or 36 months from residence
Processing of citizenship application and updates due diligence status
Approval in principle by the Minister
Evidence of Fulfilment of Citizenship Requirements
Oath of Allegiance
Passport issue of Naturalisation Certificate & Passport
Agency conducts continuous monitoring for 5 years
Prohibited Countries
Identity Malta Agency has updated the list of prohibited countries and is now not accepting applications from nationals of the following countries (as at 03/01/2020):
Afghanistan
Chad
Iran
Libya
North Korea
Somalia
Syria
Venezuela
Yemen
Nigeria
Eritrea
Tanzania
Sudan
Kyrgyzstan
Myanmar (Also known as Burma)
How PKF Malta can help:        
PKF Malta is vested together with its partners to make this process for you and your family, as simple as possible. PKF Malta will accompany you throughout the entire process and make sure that your citizenship by investment program is an enjoyable, successful and smooth route.
Seeking assistance? Please complete this brief survey to expedite our support: Take Survey