Grenada's Citizenship By Investment Program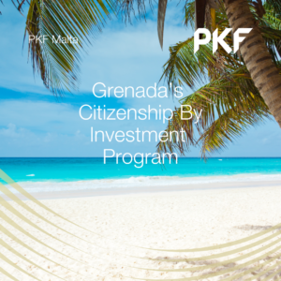 Grenada was first explored by Christopher Columbus in his 3rd voyage to the Americas. Grenada is also referred to as the "Island of Spice" due to its production of nutmeg and mace crops as well as its mass exportation of cinnamon, ginger and cloves amongst other spices, making it a haven for such resources.
Tourists visit Grenada and its satellite islands such as Carriacou, Petit Martinique, Ronde Island and Frigate Island amongst others due to their delightful scenarios and grand beaches.
Grenada is an idyllic destination for many seeking a 2nd Passport; from a strong and stable government to boasting a 98% literacy rate and vast working opportunities, the almost 350 km squared island offers a handful of incentives to those wishing to expand their passport résumé.
Individuals who acquire citizenship are vested with full residency rights as well as the eligibility to apply for the US E-2 visa which is only offered by virtue of Grenadian citizenship in the Caribbean.
Moreover, Grenadian citizenship by investment is not only extremely attractive because of its copious and rich spectrum of benefits it reaps but also because it is relatively affordable and very cost-effective when compared to other investment schemes.

Seeking assistance? Please complete this brief survey to expedite our support: Take Survey
Benefits of the Grenda's Passport include:
Ever since 2013, Grenada has offered citizenship through a government-sponsored investment program. As a matter of fact, the one-time investment serves for life and is applicable to the investor, as well as to children, siblings, spouses and parents, as well as passing to following generations.
In order to attain such citizenship, one is not required to visit or reside in Grenada whereby passports are issued within 3 to 4 months. Grenada enjoys very healthy international relations and a Grenadian passport bestows on its holder 130 visa-free destinations some of which include the UK, Russia, China and Schengen European Countries amongst others.
Grenada's Citizenship By Investment Program – The Process
This allows for US residence in exchange for a minimum of $250,000 investment whereby it allows to develop and direct of the investor. Moreover, the Grenada investment program allows its holders to reside in the US for 5 years without hindrances and no setbacks on the number of times the E2 visa ought to be renewed. This E2 visa is also bestowed on the spouse and dependent children as long as they are under the age of 21 thereby allowing them to work as well as study in the US.
It is estimated that when taking everything into account a family of 4 (2 adults and 2 children under the age of 16) would more or less spend around $300,000 in total in order to attain such citizenship. For the applicants to keep enjoying the citizenship acquired, they ought to keep the qualifying investment for a minimum of 5 years, after which they are free to sell their investment.
In addition, the application process is extremely applicant-friendly and cuts any type of bureaucracy. The first step is to sign a reservation form and issue a deposit of $22,000 against the $220,000 investment in order to secure their real estate option for the CBI Program.
The next thing to do would be for the investor to collate the necessary documentation and complete the CBI application forms together with the paying of all relevant fees such as due diligence fees and application fees amongst others. Following this is the processing of the application which more or less takes anywhere from 3 to 4 months.
The remaining $198,000 ought to be paid within the first 7 days of one's stay and the $50,000 in government fees after which an Ownership Certificate to the investor will be granted. The last thing on the list is the closing and transfer stage where proof will be submitted to the government and the CBI unit which will lead to the issuance of citizenship and passport in more or less 21 to 28 days.
How PKF Malta can help:        
PKF Malta is vested together with its partners to make this process for you and your family, as simple as possible. PKF Malta will accompany you throughout the entire process and make sure that your citizenship by investment program is an enjoyable, successful, and smooth route.
Seeking assistance? Please complete this brief survey to expedite our support: Take Survey