Network News • 2023-11-15
Governance in focus: Navigating ESG challenges

Published on the Times of Malta: 15th November 2023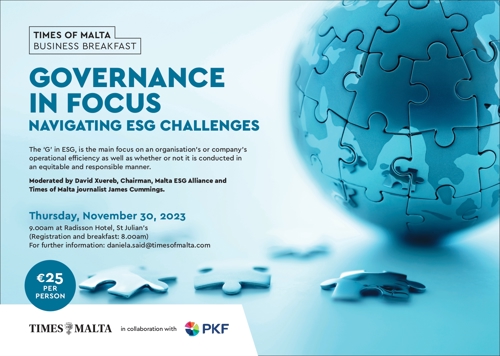 Governance is fundamental to delivering an organisation's sustainability objectives. Amid other considerations concerning climate risk and societal implications, the importance of the "governance" in ESG often takes the back seat.
A Board of Directors' role is to ensure that ESG factors are integrated within the organisation's governance, thus enabling the organisation to make informed decisions, set business priorities and objectives, and ultimately allocate the necessary resources. Poor corporate governance practices have in the past led to some of the biggest financial scandals in the business world.
Times of Malta in collaboration with PKF Malta will be hosting the fourth and final ESG-related business breakfast event, focusing on governance.
The event will take place on November 30, at the Radisson Blu, St Julian's. Registrations and breakfast will open at 8am, with the main event kicking off at 9am. The event will start with an opening speech by Hon. Stefan Zrinzo Azzopardi, Minister for Public Works and Planning, followed by a presentation by Sofia Moreno,  PKF Partner and ESG Lead and a panel discussion moderated by Perit David Xuereb, chairman of the Malta ESG Alliance.
The event will aim to shed light on the latest trends, challenges and best practices in governance. We trust that this event will bring together industry leaders, experts and professionals to discuss and explore key issues which are shaping business structures in today's fast-changing landscape.
Registration is now open. Secure your spot by registering on www.ticketline.com.mt. Limited seats are available for this event, so early registration is recommended.
Published on the Times of Malta: 15th November 2023
See more Network News items