Network News • 2023-11-16
Can Malta attract fabless business?
Author: Ovidiu Tierean - Senior Advisor at PKF Malta
Published on the Malta Business Weekly: 16th November 2023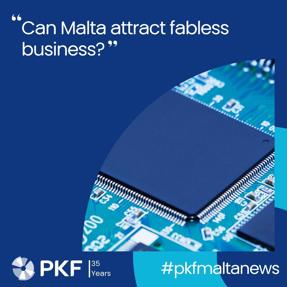 The EU adopted the Chips Act in response to the worldwide shortage of semiconductors. Other large economies, including the United States, Japan, Taiwan, China, and South Korea have set up, or are in the process of setting up, their own schemes to incentivise increased domestic production of chips. Many of these schemes involve subsidies. The United States has committed US$52bn to its semiconductor supply chain. Because the number of different frameworks risks creating a subsidy race, the Commission has called for full transparency of state subsidies offered to stimulate production of chips. 
In a nutshell, the proposed Act will encourage the development of advanced manufacturing, design and system integration, and cutting-edge industrial production capabilities. These aims are backed by increased public and private investment totalling more than 43 billion euros by 2030. This includes the possibility of very high levels of public investment for "one-of-a-kind" facilities that can benefit all of Europe.
The proposed Act also addresses the critical need for skills and introduces tools for predicting and avoiding supply shortages. International partnerships are one of these endeavours, demonstrating the EU's commitment to remaining open to the rest of the world while also striving to improve balance interdependence.
Malta Enterprise is actively involved in the EU Chips Act. Malta is one of only a handful of EU member states that have a growing semiconductor industry, and the government is committed to developing this sector further, as stated in the presentation of the 2024 budget.
Malta Enterprise has played a key role in negotiating the Chips Act, and has secured several important concessions for Malta. For example, the Chips Act will provide funding for each member state to establish a competence centre in microelectronics research and development. Malta Enterprise will be responsible for setting up and managing Malta's competence centre. The competence centre will provide support to Maltese companies and researchers working in the semiconductor sector.
Malta Enterprise is also working with the European Commission to develop a plan for attracting foreign investment in the semiconductor sector to Malta. The government has set a target of attracting €1 billion in foreign investment in the sector by 2025.
In addition to its work on attracting investment and developing the semiconductor ecosystem, Malta Enterprise is also providing support to Maltese companies and start-ups that are involved in the semiconductor supply chain such as Fabless units. It is helping Maltese companies to develop new products and services, and to access new markets.
As part of the European Union effort to achieve a greener, digital, more secure, resilient, and sovereign economy, in June this year, the European Commission has approved the second Important Project of Common European Interest (IPCEI) in microelectronics. The EC assessment under the state aid rules allows participating EU Member States to provide up to €8.1 billion in public funding. This money will support research, innovation, and the first industrial deployment of microelectronics and communication technologies across the value chain from materials and tools to the chip designs and manufacturing processes. As part of this IPCEI, 56 companies, including SMEs and start-ups, will undertake 68 projects. The project was jointly prepared and notified by fourteen Member States: Austria, Czechia, Finland, France, Germany, Greece, Ireland, Italy, Malta, the Netherlands, Poland, Romania, Slovakia, and Spain.
These 68 projects will support Europe's digital and green transformation by: creating innovative microelectronics and communication solutions, and developing energy-efficient and resource-saving electronics systems and manufacturing methods. They will contribute to the technological advancement of many sectors, including communications, autonomous driving, artificial intelligence, and quantum computing. They will also support companies active in the energy generation, distribution, and use in their green transition. First novel products may be introduced to the market as early as 2025, and the completion of the overall project is planned for 2032, with timelines varying in function of the project and the companies involved. Around 8700 direct jobs are expected to be created.
Among these 56 companies, there's Malta's STMicroelectronics, formed out of the merger of two government-owned manufacturers from Italy and France. STM's own project is part of a joint initiative involving Malta, France, and Italy, with Malta Enterprise overseeing the support provided from Malta.
Along with the European Chips Act, the IPCEI aims to enhance the EU's chip R&D and manufacturing capabilities, consolidate supply chain security and stability, and augment its competitiveness globally. The EU aspires to account for 20% of global semiconductor production capacity by 2030. Achieving this goal hinges on state subsidies and pools of funds created by private investors for the construction of new semiconductor manufacturing facilities in Europe.
Malta can help the EU achieve its goal by providing financial incentives for semiconductor companies to invest in Malta, investing in education and training to create a skilled workforce for the semiconductor industry, creating a supportive regulatory environment for the semiconductor industry, and partnering with other EU member states to develop a common semiconductor strategy.
Author: Ovidiu Tierean - Senior Advisor at PKF Malta
Published on the Malta Business Weekly: 16th November 2023
See more Network News items